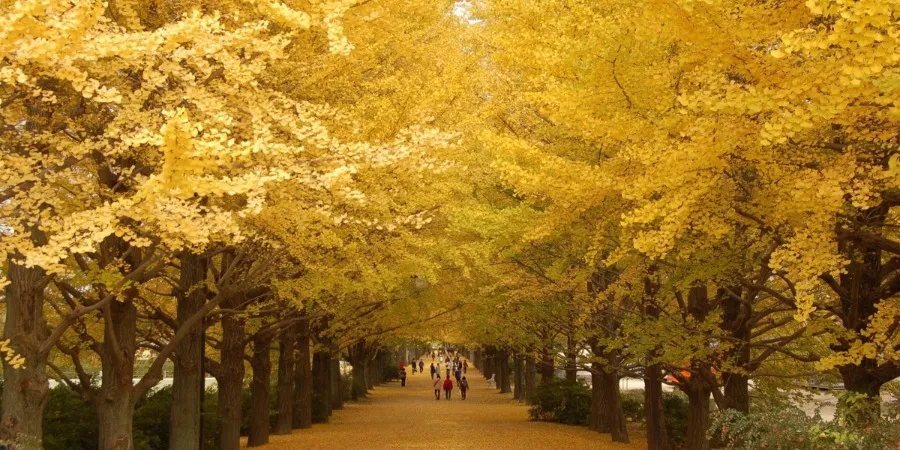 Best yellow Ginkgo leaves viewing spots in Tokyo this November
When it comes to Tokyo, the image that first pops into the minds of many is a city that is modern, hectic, and never seems to sleep. Though not incorrect, that is not all there is to Tokyo. Tokyo is also gentle and charming, especially when colored with the bright shades of the fall foliage.
During autumn, Tokyo completely transforms itself from an extremely busy city to one that is somewhat more calm, more peaceful, and more quiet. Visiting Tokyo during this time, you are sure to be taken away by the beautiful view of yellow and red leaves fluttering in the wind. This is also the most attractive feature of Tokyo during these last months of the year, attracting many foreign and domestic tourists.
In this article, GoEMON will guide you through some of the best autumn leave viewing spots in Tokyo that you should not miss this November!
1. Meiji Jingu Gaien (明治神宮外苑)
Meiji Jingu Gaien is famous as one of the best spots to view the brilliant yellow autumn leaves in Tokyo. The road leading from Aoyama-dori to Meiji Jingu Gaien is lined with roughly 150 trees along the way, creating a breathtakingly beautiful tunnel of yellow leaves. The Ginkgo Festival is also held here during this period, attracting over 1,8 million visitors each year.
Location: 1-1 Kasumigaokamachi, Shinjuku City, Tokyo 160-0013

Access: 3-minute walk from Gaienmae Station, gate 4a, or a 5-minute walk from Aoyama Ichome Station, gate 1.

The best time to visit: Mid-November to early December
2. Koshu Kaido Avenue (甲州街道いちょう並木)
Another location in Tokyo famous for being a great yellow leaves viewing spot is Koshu Kaido Avenue. Stretching along the Koshu Kaido road, the avenue seems to come alive during late November with the transformation of the ginkgo leaves into brilliant shades of yellow. The scenery is all the more magnificent when there is sunlight shining down, making the road seem as if it is glowing in golden light. There would also be an annual festival held along the route during the mid-November timeframe.
Location: 23 Takao, Hachioji, Tokyo, 193-0844

The best time to visit: During the mid-November timeframe
3. Showa Kinen Park (昭和記念公園)
39 times bigger than Tokyo Dome, Showa Kinen Park is famous as one of the biggest parks in Tokyo and also one of the best locations to view the brilliant yellow ginkgo leaves. The showstopper here is undeniably the park's Ginkgo Avenue, with more than 100 trees lining for around 200 meters. During fall, the leaves turn a bright yellow, creating a beautiful golden tunnel.
Location: 3173 Midoricho, Tachikawa, Tokyo 190-0014

Access: a 15-minute walk from Tachikawa Station or a 2-minute walk from Nishitachikawa Station.

The best time to visit: From early to late November

Entrance fee: 450 yen for adults, free for children from Middle school and lower.
4. Komazawa Olympic Park (駒沢オリンピック公園)
Constructed in 1964 for the Summer Olympics, the Komazawa Olympic Park is filled with sporting facilities, from stadiums, baseball fields, tennis courts, and swimming pools, to gyms, and various other sports facilities. Aside from sports, this park is also well-known for its Ginkgo Avenue connecting from Komazawa Street to the West Gate Park Information Center called the Golden Tunnel. What's better than going out for a run or walk under this Golden Tunnel?
Location: 1

54-0013Tokyo, Setagaya Ward, Komazawakoen 1

Access: 15-minute walk from Komazawadaigaku Station on the Tokyu Denentoshi Line

The best time to visit: From early November to early December
5. Yasukuni Shrine (靖国神社)
Yasukuni Shrine is another great location for those who want to enjoy yellow ginkgo leaves in autumn. It is known for its abundance of sakura trees in spring and ginkgo trees in autumn. The road leading to the shrine, adorned with ginkgo trees, creates a fascinating canopy, capturing the attention of visitors from all over to witness and admire its beauty.
Location: Tokyoto Chiyodaku Kudankita 3-1-1

Access: From the nearest station, Kudanshita

The best time to visit: From mid-November to mid-December
6. The University of Tokyo (東京大学)
Another interesting location to admire the beauty of Tokyo during fall is at The University of Tokyo's Hongo Campus. Here, you can easily find ginkgo trees planted everywhere throughout the entire campus. During autumn, the leaves all turn yellow, coloring the area with a bright yellow shade. The most prominent location here has got to be the Avenue of Ginkgo Trees, connecting the main gate to Yasuda Auditorium - the symbol of the University of Tokyo.
Location: 7 Chome-3-1 Hongo, Bunkyo City, Tokyo 113-8654

Access: 3-minute walk from Todaimae Station on the Namboku Line or a 10-minute walk from the Hongosanchome Station on the Marunouchi Line

The best time to visit: From late November to early December
7. Hikarigaoka Park(光が丘公園)
Hikarigaoka Park is a popular destination for Sakura viewing in spring and likewise, for ginkgo leaves viewing in autumn. Visiting the park, visitors definitely should check the path connecting Hikarigaoka Station to the park, as this is where the four giant ginkgo trees are planted. One of the most impressive things about these trees is that they are all over 130 years old!
Location: Hikarigaoka 2 and 4, Asahi-cho 2, Akatsukashinmachi 3, Itabashi-ku, Nerima-ku, Tokyo

Access: 8-minute walk from Hikarigaoka Station on the Oedo Line

The best time to visit: From early November to early December
Above was GoEMON's guide on 7 of the best locations to view the brilliant yellow autumn leaves in Tokyo this November! GoEMON hopes that the article was of use to you in planning your trip to Japan this fall.
Feel free to comment down below if there are suggestions on other viewing sites that you would like to recommend aside from the previously mentioned ones as well!
Don't forget to follow GoEMON Global for the latest updates on life in Japan!