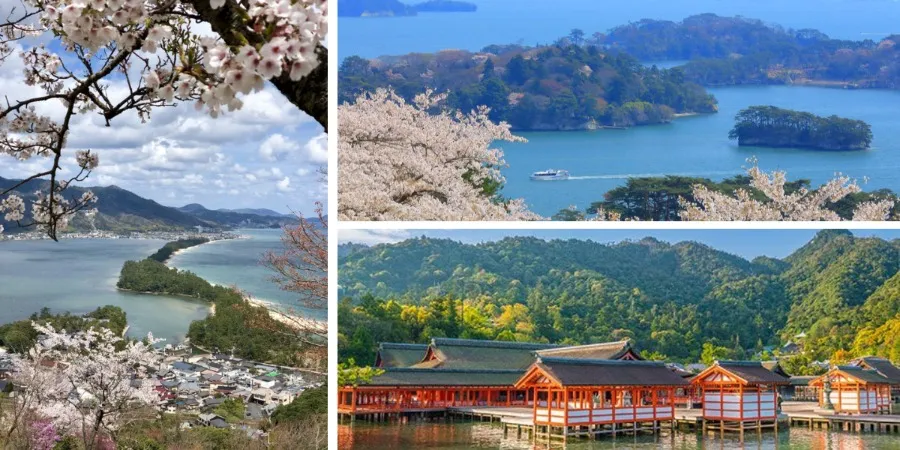 Nihon Sankei – Japan's Three Most Scenic Spots
Nihon Sankei (日本三景), which can be directly translated into Three Views of Japan, is a trio of Japan's most famous scenic spots. All three spots are located along three provinces spread out from North to South of the Honshu Island - the largest and most populous island in Japan.
These include Matsushima Bay in Miyagi Prefecture; Amanohashidate Sandbar in Kyoto Prefecture; and Itsukushima Shrine in Hiroshima Prefecture.
In this article, let GoEMON guide you through these 3 beautiful wonders!
1. Matsushima Bay
Location: Matsushima Bay is located in the North of Japan, near Sendai, Miyagi Prefecture.
How to get there: From Sendai Station (仙台駅), take the JR Senseki Line ((仙石線) to Matsushima-Kaigan Station (松島海岸駅). It takes 25 minutes by rapid train or 40 minutes by regular train.
In addition to its breathtaking scenery, Matsushima also has many temples and shrines, the most famous of which is Zuigan-ji Temple. Visitors can admire this scenic spot with different experiences from four locations, including Takamori, Toyama, Ogidani, and Tamonsan. The Japanese call all four of these beautiful landscapes Matsushima Shidaikan.
For hundreds of years, Matsushima Bay has been honored as one of Japan's three most beautiful landscapes, alongside Miyajima and Amanohashidate.
Matsushima - also commonly known as the pine-clad islands, is a complex of roughly 260 islands in various sizes that are covered in pine trees, most of which are over 600 years old. The islands are colored by the red and black shade of pine trees and dotted with gray rocks, which creates a mesmerizing scenery that is sure to impress all visitors.
Aside from its breathtaking scenery, the Bay is also known for its many shrines and temples, the most famous of which is the Zuigan-ji Temple. Visitors can observe Matsushima from four different views: Sokan - The Magnificent View from Mount Otakamori, Reikan - The Beautiful View from Mount Tomiyama, Yukan - The Enchanting View from Ogidani Highland, and Ikan - The Grand View from Mount Tamon. Each spot will give you a different experience and impression, as represented by their names. Together, these four views are called Matsushima Shitaikan.
2. Amanohashidate Sandbar
Location: Amanohashidate (天橋 立) is a pine-clad sandbar on Miyazu Bay in the Northern Coastal Region of Kyoto Prefecture. It is 100km away from downtown Tokyo.
How to get there: From Kyoto Station (京都駅), take the JR San'in Honsen Line (山陰本線) to Amanohashidate Station (天橋立駅), which will take around 3 hours.
To view this scene in the best way, at the top of the mountain, there is a rock for observers to stand on to see the scene that connects land to the sky - the Amanohashidate sand strip covered with green pine trees.
Some other attractions that can be explored on foot or by rental bicycles at either end of the sandbar include a few temples, a small amusement park, and an observation deck from which to enjoy the view. Visitors can also take a cruise around the bay or see the beaches along the sandy shore.
The Amanohashidate Sandbar is roughly 3.6 kilometers long and spans across Miyazu Bay on the Tango Peninsula of Tokyo Prefecture. Views of the Sandbar at either end of the bay look similar to a pathway between heaven and earth, hence the name "Amanohashidate" - which translates to "Bridge to Heaven" in English.
The best view of Amanohashidate can be observed by going to the top of the mountain, where there is a rock that visitors can stand on to get the perfect view of the sandbar acting as a bridge from Earth to Heaven.
Other attractions include several temples, a shrine, a small amusement park, and observation decks to get the best view of the sandbar, which are all accessible on foot. Rental bicycles are also available at either end of the sandbar. Visitors can also go on sightseeing cruises around the Bay or take a walk along the sand beaches along the sandbar.
3. Miyajima Island
Location: Miyajima (宮 島) is an island in Hiroshima Prefecture. The island is nestled in the Seto Inland Sea and has been revered as a sacred place since ancient times.
How to get there: From Hiroshima Station (広島駅), take the JR Sanyo Honsen Line (山陽本線) to Miyajimaguchi Station (宮島口駅), which takes around 30 minutes. From Miyajimaguchi Station, you can take a 10-minute ferry ride to the island.
Though officially named Itsukushima, the island is more commonly referred to as Miyajima, which directly translates to "Shrine Island."As a mountainous area, the majority of Miyajima are forests. There is a small town on the island, with a total population of roughly 2,000 people.
Coming to Miyajima, locations that you definitely cannot miss are Itsukushima Shrine, Daishoin Temple, Daigan-ji Temple, Misen Mountain, and the beautiful Momijidani Park.
The most popular attractions on Miyajima Island are the Itsukushima Shrine and the giant Torii gate, hence its name Shrine Island. Recognized as a UNESCO World Heritage Site in 1996, the shrine's distinct, bright red shade gives it a unique beauty and the title of one of Japan's national treasures.
If you have the opportunity to visit Japan, definitely go visit these 3 scenic spots! Their magnificent beauty for sure will take your breath away!
Don't forget to follow GoEMON Global for the latest updates on life in Japan!