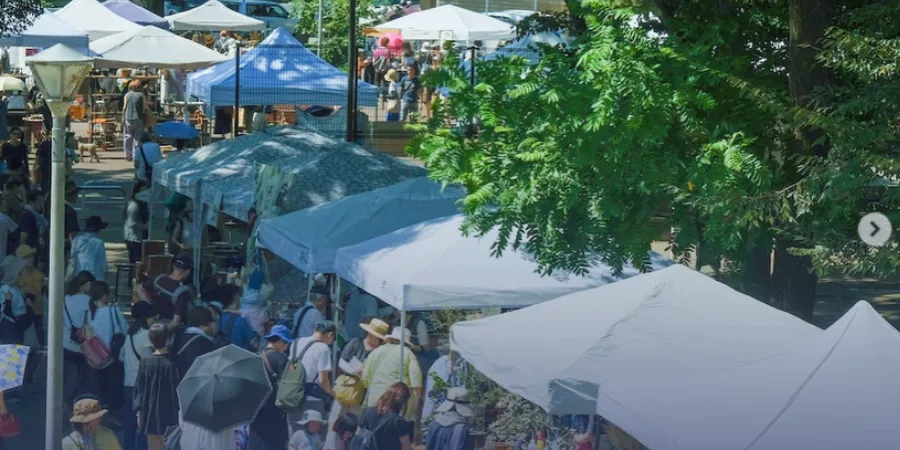 Explore 4 Famous Flea Markets In Japan
Flea markets in Japan are lively hubs, deeply rooted in traditional culture, offering a diverse array of goods ranging from antiques and vintage items to handmade crafts and local specialties.
These markets are distinctive for typically occurring on specific days of the month and are considered an essential part of Japanese culture.
Exploring the stalls at these market sessions will endear you to the area as you discover unique items and savor local dishes not readily found elsewhere while immersing yourself in the vibrant atmosphere of these open-air markets. Let's join GoEMON to explore four famous flea markets in Japan that you can experience!
Yoyogi Park Flea Market
Location:

Sidewalk opposite the park, near the NHK building

Meeting Frequency:

Once a month
This market is one of Tokyo's oldest flea markets, boasting over 800 stalls with a wide range of vintage items, particularly in fashion. It attracts a diverse crowd, and besides contributing to environmental sustainability by trading in secondhand clothing, it offers a variety of things. "One person's trash is another's treasure," making this market a favorite destination for many.
Ooi Horse Racing Flea Market
Location:

Near Ooikeibaijoumae Station, Shinagawa

Meeting Frequency

: Every Saturday and Sunday
The Ooi Horse Racing Flea Market is a beloved and one of the largest and most famous flea markets in Tokyo. With 600 stalls of all sizes, it offers various products such as antiques, fashion, furniture, decor, and more. One unique aspect of this market is the abundance of brand-new branded items available at very affordable prices. If you have the time, you should definitely check out this renowned market!
Heiwajima Antique Market
Location:

2nd Floor, Ryutsu Center Building

Meeting Frequency:

5 times a year
It's Japan's oldest and most renowned antique market. With 280 stalls, you can find antique items dating back many years. If you're passionate about collecting antiques, this market is definitely an option you can't miss when visiting Japan.
Yasukuni Shrine Flea Market
Location

: Yasukuni Shrine, near Kudanshita Station Exit 1

Meeting Frequency

: 2 Saturdays monthly, 10 am - 3 am the next day. Not held in July.
This market features around 150-200 stalls and is a favorite spot for both domestic and international tourists due to its unique antique items and rare products. It's trendy among those with a passion for Japanese ceramics and porcelain.
—----------------------------------------------------
Don't forget to follow GoEMON Global for the latest updates on life in Japan!
#GoEMON #tips #Japan #traveling #tipsforliving #Japanese #Japanin2023
#festival #fleamarket #market