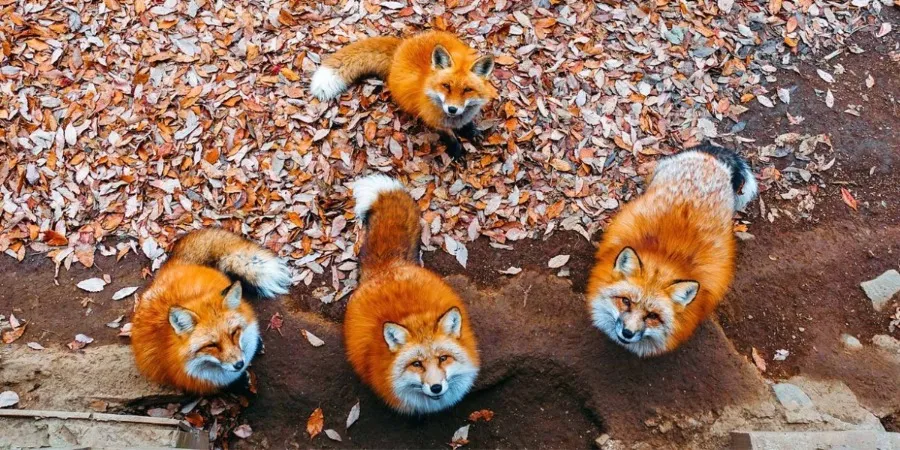 All You Need to Know About Miyagi Zao Fox Village
Mount Zao, located in Miyagi Prefecture of Japan is home to more than 100 foxes of 6 different breeds. Thus, the Miyagi Fox Village is unarguably a must-visit place for fox lovers.
In this article, let GoEMON guide you through all the information that you need to know about Miyagi Fox Village to help plan your trip to meet these fluffy four-legged friends!
1. Basic information on Zao Fox Village
Zao Fox Village is near Shiraishi City, Miyagi Prefecture, Japan, located in the mountains away from the bustling and hustling of the modern city. The village has been around for quite some time since the 90s and is home to over 100 adorable, free-ranging foxes, including the typical red and arctic foxes, as well as ones with uncommon coat colors such as silver and platinum foxes, and red-arctic fox hybrids.
In Japan's culture, foxes are depicted as quick, intelligent, and somewhat sly animals They are also commonly regarded as a symbol of luck and the embodiment of Inari Okami, who is the Japanese god of agriculture, commerce, sake, tea, and of course, foxes. Visitors to the village can find a shrine dedicated to this god as well. The representative mascot of Inari Okami is the Arctic fox.
Address: 11-3 Fukuokayatsumiya, Shiroishi, Shiroishi-shi, Miyagi-ken

How to get there: By train or bus. Taxi and shuttle bus services are also available

From Tokyo, take the Tohoku Shinkansen to Shiroishi-Zao station

Or take the train or highway bus to Sendai, from where you can then take the local JR train directly to Shiroishi Station (45 minutes).

From both Shiraishi-Zao station and Shiraishi station, you will have to take either a taxi or shuttle bus to reach Miyagi Zao Fox Village. We recommend taking the bus for those who want to save some money.

Opening hours:

From 16 March - 30 November: 9:00 - 17:00 ( 9 AM - 5 PM)

From 1 December - 15 March: 9:00 - 16:00 ( 9 AM - 4 PM)

Entrance Fee:

Adults (from middle school students and up): 1500 yen

Children (elementary students and below): Free
2. Things to do at Miyagi Zao Fox Village
Coming to Miyagi Zao Fox Village, you will get the chance to enjoy the fresh air, peace, and tranquility of the mountains and forests while at the same time watching the cute foxes run around playing with one another in their natural habitat. Sounds amazing, right?
Aside from that, some other activities that you can participate in include:
2.1. Take pictures with the foxes
The Miyagi Zao Fox Village is divided into several different areas. The first area upon entering the village is where you can find foxes that are raised as pets in cages.
Walking through this area will lead to where the free-ranging is at. This is a great opportunity for you to take pictures with these adorable foxes. However, you will have to pay a fee to be able to freely pet and take pictures with them.
2.2. Feeding the foxes
In this second area, there will be feeding stations in stilt houses located in the middle of the forest. Knowing that they will be fed, the foxes here will gather around and stare at you with sparkling eyes, waiting to be fed.
One bag of treats costs 100 yen and can be bought here at the feeding stations or the entrance of the Miyagi Zao Fox Village.
2.3. Visit the Fox Shrine
When it comes to foxes, cunning and devious are some of the common traits that are commonly associated with this animal. However, in Japan, foxes are believed to be the messengers of Inari Okami - the female Shinto deity, and thus have the power to help ward off evil spirits, and demons and bring positive energy. This is also the reason why there is a fox shrine here.
The atmosphere here is quiet and solemn, a drastic contrast to the liveliness in the area where the foxes are kept. The shrine is also surrounded by many trees and uniquely designed Kitsune statues. You can also take a stroll around the area to fully enjoy the chill vibes, quiet atmosphere, and beautiful scenery here.
2.4. Getting souvenirs
When it comes to traveling, we can't leave out on getting cute souvenirs to give out to family and friends, right? Thus, coming to Miyagi Zao Fox Village, don't forget to check out the gift shop here. The items available there are all of good quality, beautifully designed, and meticulously made following the overall "fox" theme. There are some pretty interesting items, such as fox-shaped chocolate, fox-shaped organizers, fox keychains, watches, stuffed toys, and many more, made from environmentally friendly materials. The list goes on and on.
3. Some things to keep in mind when visiting Miyagi Zao Fox Village
The fluffy foxes may seem cute, tamed, and harmless, but don't be fooled by their adorable appearance. Since they are not fully domesticated, to avoid hurting yourself and the foxes, please listen carefully and follow the regulations of the village when interacting with the foxes.
Below, GoEMON has listed some major points that you should always keep in mind to have a fun experience in the village. These include:
Do not fool around, scream, or make loud noises in general. The foxes can become startled and run to attack you on reflex.

Do not dangle objects in your hands, such as water bottles, bags, etc, since this can agitate the foxes and cause them to run up and attack you.

Always remember to wear protective gloves when feeding the foxes. No matter how cute and tame the fox may seem, their teeth are still very sharp and dangerous.

On the rare occasion when a fox runs up to attack you, don't stand still. Instead, stomp your feet hard and gradually inch toward the fox to intimidate them.

The staff at the village will not be responsible if you are bitten by the fox. Therefore, please wear protective clothing properly and always be careful during the tour.

There are 2 areas in the village where you are not allowed to take pictures or interact with the foxes can only observe them from a distance. If you wish to take pictures and interact with them, you can sign up for a photography service with purebred foxes. Only then can you freely take pictures, pet, and hug the foxes.
Visiting and exploring the Miyagi Zao Fox Village is something that fox enthusiasts cannot miss when coming to Japan. What is better than being able to observe, take pictures, and interact with the adorable, fluffy, and energetic foxes?
Have u ever been to Miyagi Zao Fox Village? Share with us your experience in the comment section down below!
Don't forget to follow GoEMON for the latest updates on life in Japan!