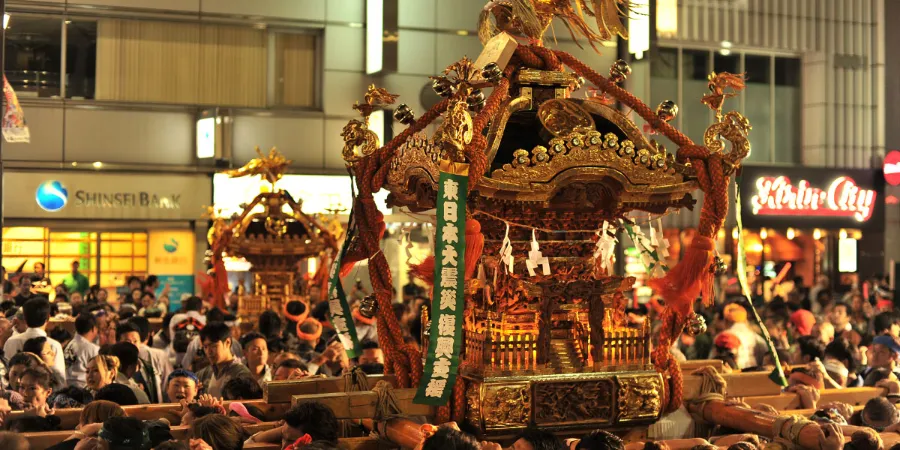 5 Japanese Festivals that you Cannot Miss this September
In this article, let GoEMON guide you through 5 of the best Japanese festivals that you cannot miss this September! Let's go!
September, in GoEMON's opinion, is one of the best months to travel to Japan. The weather during this period is just perfect: not too hot and also not too cold, fluctuating between 20 and 30 degrees Celcius. September is also when heaps of cultural festivals are held here in Japan, showcasing the nation's beautiful, unique, and long-lasting traditions.
1. Kishiwada Danjiri Matsuri
Held in Osaka, Kishiwada Danjiri Matsuri is undoubtedly one of Japan's most interesting festivals, which attracts hundreds of participants each year. During the festival, groups of young and strong men will carry over 30 Mikoshi floats, each up to 4 meters in height, through the streets of Osaka at an impressively fast speed. This 300-year-old, tough, and challenging festival is definitely not for those lacking in terms of physical strength.
Before the spread of the COVID-19 pandemic, Kishiwada Danjiri Matsuri was one of Japan's largest float festivals, attracting over 500,000 spectators each year. This event is definitely a must-stop location in your travel itinerary if you are to visit Osaka during this period.
Duration: September 14 - 15
Location: Kishiwada, Osaka
2. Tsurugaoka Hachimangu Reitasai
Yabusame is the Japanese art of archery on horseback, a military skill that was developed during the Kamakura period (1185 - 1333) and perfected during the 250 peaceful years of the Edo Period (1603 - 1868).
In Kanagawa, Tsurugaoka Hachimangu Shrine is acknowledged as the spiritual home to the art of Yabusame. If you have the chance to visit Japan during this period, you should not miss the opportunity to admire the impressive scene of horsemen participating in the challenging Yabusame competition in traditional feudal hunting attire.
Period: September 14 - 16
Location: Tsurugaoka Hachimangu Shrine, Kamakura-shi, Kanagawa
3. Furrusato Hyappei Festival
Furusato Hyappei is widely known as the largest festival in Iwamizawa, Hokkaido, Japan. Dating back to 1983, this festival is the local people's wish for a bountiful harvest.
In this festival, people will work together to pound 69 kilograms of mochi (rice cake), using a massive 4-ton mortar and a 200-kilogram pestle. The finished product will then be distributed to everyone. The locals here believe that by doing so, their crop for the year will have a high yield.
Duation: September 15 - 17
Location: Iwamizawa, Hokkaido
4. Ikebukuro Festival (Fukuro Matsuri)
The Ikebukuro Festival is held with the purpose of introducing and connecting international friends to Japanese culture. It is open to all foreign and domestic visitors.
The festival is also an opportunity for visitors to admire and enjoy culturally distinctive Japanese folk dances and interesting Karate performances. You can actively participate and become a part of the festival by joining others in carrying the Mikoshi float through the streets of Ikebukuro and immersing in the vibrant and bustling atmosphere of the festival.
Duration: September 25 - 26
Location: Ikebukuro, Tokyo
5. Kokkeisetsu Festival
Kokkeisetsu is a special holiday dedicated to the Chinese community residing in Japan. Held in Yokohama Chukugai, one of the 3 largest Chinatowns in Japan, the festival offers many interesting activities such as lion dance performances, singing, and a fireworks display.
Additionally, by participating in this festival, you will get the chance to become 1 in 300 lucky people to receive a portion of a huge mooncake - a traditional Chinese bakery product often eaten during this period of the year.
Duration: September 30 - October 1
Location: Chinatown, Yokohama
Don't forget to follow GoEMON for the latest updates on life in Japan!