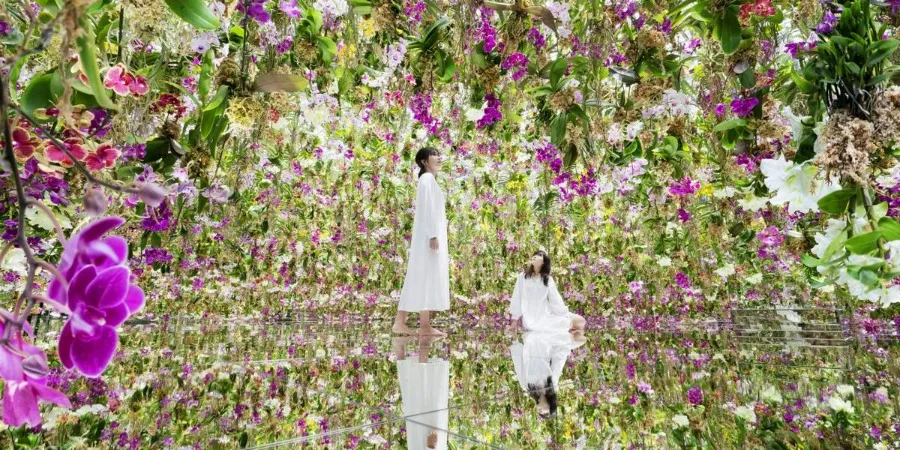 Why you should visit teamLab Planets Interactive Light Museum in Tokyo
teamLab Planets has been the hottest topic when it comes to traveling in Tokyo, visited by millions of both international and domestic tourists. What makes this museum so special and loved by many? Let's find out in this article right now!
1. What is teamLab and teamLab Planet?
teamLab is an international art collective formed in Tokyo, Japan back in 2001. The group is made up of artists, programmers, engineers, CG animators, mathematicians, and architects. Referring to themselves as "ultra-technologists," the group creates stunning and unique artworks using digital technology.
In 2018, teamLab created teamLab Planet - an immersive art museum never seen before, capturing the attention of the art world. The art facility was only supposed to open for a limited period of 2 years until 2020; however, due to popular demand, the exhibition period was then extended to the end of 2022, then another time to the end of 2023, and recently, the third time to the end of 2027.
2. The concept of teamLab Planets
As previously mentioned, teamLab Planets is created based on the concept of "body immersion." But what do the creators mean by body immersion?
By creating teamLab, the team wishes to create a world where there is no barriers between the art and the human body, "the boundary between the body and the artwork dissolves, the boundaries between the self, others, and the world become something continuous, and we explore a new relationship without boundaries between ourselves and the world." Here, guests can directly engage with the artworks with their 5 senses as if the arts have truly come to life and become a part of the natural world we are currently living in.
Enjoying art at teamLab is vastly different from that of conventional art galleries. Rather than just passively looking at the displayed artworks and exhibitions, guests will get to explore the museum barefoot, in some parts walk with their feet submerged in water, and experience what it is like to actually get lost in and become a part of the artwork. We won't spoil too much of the content, but we're sure that the exhibition will exceed all of your expectations!
3. What to expect and things to keep in mind
As mentioned earlier, as many of the displays feature walking in water, expect to get a little bit wet! The water will get up to around your knees, so keep this in mind when choosing your outfit before going here! And as many of the displays have floor mirrors, it might not be the best decision to wear skirts and dresses. We recommend wearing shorts that are above the knees, or pants that can be pulled up easily. In case you still want to wear skirts and dresses, the museum does have wrap-arounds that you can use.
As the museum is in high demand, you may have to wait 30 to 90 minutes to be admitted to the venue. Therefore, if you want to avoid having to wait for too long, it might be best to go either during the first two or the last two opening hours during weekdays.

Operating time may change on special occasions or holidays, so make sure to check the official website carefully before going

The facilities do not have any parking spots, so it might be better to travel there using public transport, or in case you do travel there by personal vehicle, to find a parking spot somewhere else beforehand

Make sure that your phone is fully charged before going since you are sure to be using it throughout the entire visit there! The opportunities to take pretty pictures are virtually endless.
Walk carefully, as you will have to tread through water! Additionally, there are also many displays featuring mirrored walls and light displays that will trick your sense of space and depth of vision.
4. Entrance fee and operating hours
1. Entrance fee:
Adults (18 years old and above): 3800 yen

Middle school and high school students: 2300 yen

4 to 12 year olds: 1300 yen

Under 3 years old: free

Disability discount: 1900 yen
2. Operating hours:
All days 9:00 - 22:00

The last entrance is one hour before the closing time.
5. Location and access
1. Location: 6-1-16 Toyosu, Koto-ku, Tokyo, 135-0061
2. Access:
1 minute on foot from Shin-Toyosu Station (Tokyo Waterfront New Transit Waterfront Line Yurikamome Line)

10 minutes on foot from Toyosu Station and LaLaport Toyosu (Tokyo Metro Yurakucho Line)

5 minutes on foot from Shijoumae Station and Toyosu Market (Tokyo Waterfront New Transit Waterfront Line Yurikamome Line)
For those who haven't gotten the chance to experience teamLab Planets, what are you waiting for? And those who have gone to the exhibition before, we would appreciate it if you could share with us your experience in the comment section!
Don't forget to follow GoEMON Global for the latest updates on life in Japan!