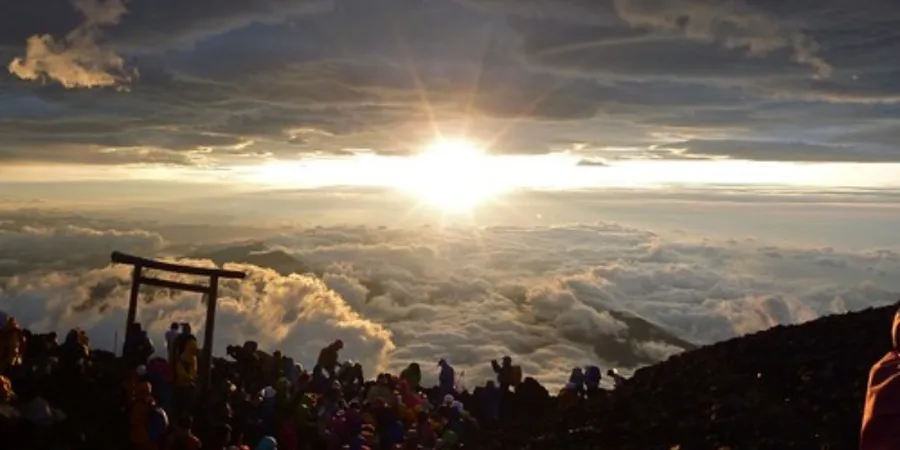 Beginner's Guide to Conquering Mount Fuji - The Highest Moutain in Japan
Mount Fuji, with its majestic beauty, is renowned worldwide as a symbol of Japan - the land of the rising sun. This mountain is also a famous tourists attraction, drawing millions of visitors and experienced climbers each year.
Climbing Mount Fuji is generally not considered to be challenging. However, the 3,776.24 meter hike is definitely a challenge of perseverance and not for the faint of heart. For those thinking of conquering this volcano, then this article is perfect for you!
1. Some things to keep in mind:
Pack all necessary items:

Before setting off, don't forget to double-check to make sure that you have all necessary items with you: lightweight travel backpack, flashlight, water (the type that helps replenish ions and electrolytes), food (such as rice balls, etc. in case you get hungry), phone with good battery life (better if it is also waterproof), safety goggles, portable oxygen equipment, medicine, etc.

Dress appropriately:

Thick clothing for mountain climbers, rainwear (which includes both waterproof pants and a hooded coat (can also be found on the mountain top, but at much higher prices and with limited variety to choose from), climbing shoes with good grip, and walking sticks for mountain climbing (can make the process of walking up and down the mountain much easier).

Being a mountainous area surrounded by lakes, the weather at Mount Fuji is very unpredictable. You never know if there will be rain or not. The weather will be significantly lower on rainy days, so if you are not dressed properly, rainwater might seep into your clothes, making you feel all the more cold and easily catch a fever. Therefore, rainwear is a must when it comes to climbing Mount Fuji.

Better not to go solo:

The path up the mountain is rather long, and tedious, and easy to stray from the right path, so having someone to accompany you is always better than going alone. The good thing is there will be a stop every 30-minute walk selling food, beverages, and necessities. There are a total of 10 stations on Mount Fuji, with the first station being at the foot of the mountain and the 10th one being on the mountain top. However, do be aware that the stations will be closed late at night.

Keep your body warm and energized:

It is crucial to always keep your body warm/at a comfortable temperature. We advise bringing easy foods like onigiri (rice balls) and mineral water to keep you energized throughout the whole journey.
2. Different difficulty levels when climbing Mount Fuji:
Mount Fuji is generally regarded as a not-so-challenging climb and suitable for those around the intermediate levels. Those who are experienced can finish climbing the mountain in roughly a day ~ 2 days 1 night.
The difficulty level; however, changes drastically depending on the route you choose. Below, GoEMON will introduce some of the most common trails to climb Mount Fuji. The trails are color-coded for convenience.
Starting point:

Though there are multiple routes up Mount Fuji, as the mountain lies between Yamanashi and Shizuoka prefectures, all starting points generally start in either of these two prefectures.

Climbing route:
(1) Yellow - "Yoshida Trail" - Most popular, suitable for everyone
Way up: Roughly 6 hours
Way down: Roughly 3.5 hours
Departure point: Fuji-Subaru Line 5th Station
(2) Blue - "Fujinomiya Trail" - The shortest path up the mountain, for those with good stamina
Way up: Roughly 5.5 hours
Way down: Roughly 4 hours
Departure point: Fujinomiya 5th Station
(3) Red - "Subashiri Trail" - For those who want to enjoy the scenic beauty of nature
Way up: Roughly 7 hours
Way down: Roughly 3.5 hours
Departure point: Subashiri 5th Station
(4) Green - "Gotemba Trail" - The way to go for experienced Climbers
Way up: Roughly 8 hours
Way down: Roughly 4.5 hours
Departure point: Gotemba 5th Station
3. When to climb Mount Fuji
Climbing Mount Fuji is not something you can do all year round - there are specific seasons for it. The official period to climb Mount Fuji is from the beginning of July until around mid-September, as this is when the weather is most favorable and the mountain is free from snow.
Though technically possible to conquer the mountain aside from said climbing season, it is wise not to do so due to high risks and low accessibility. This is especially true for climbers with less experience.
4. Some additional information:
The path from the foot of Mount Fuji to the mountain top is divided into 10 stations (or 10 floors). The first station is located on the very foot of the mountain, and the official trail starts from the 5th station.
There are many options that you can take to get to the 5th station, which includes taking the shuttle bus (available 6:30 AM to 8:30 PM), bus from Tokyo, Shizuoka, and Gotemba, or the Fuji Excursion Limited Express train from Shinjuku Station. Of course, you can also drive up there as well.
As mentioned, the 5th station will be the visitors' last stop before officially climbing up the mountain to reach to the top - the 10th station. Here, facilities such as restaurants and shops are available for climbers to prepare themselves before embarking on their journey. There is also a parking lot here.
Take your time walking: It is not a race up the mountain, so take your time, slow down, enjoy nature, and relax with your climbing companions. This is especially true as the higher you go up the mountain, the thinner the air and the harder it will be to breathe.
The trail from the 5th to the 6th station is the easiest. From then up, the trail will be much steeper. The distance between stations will increase as well.
The most important thing is not to over-exert yourself! Take your time, enjoy the climb, take breaks whenever necessary, and always remember to stay warm and hydrated!
Don't forget to follow Goemon for the latest updates on life in Japan!